Yoav Bartel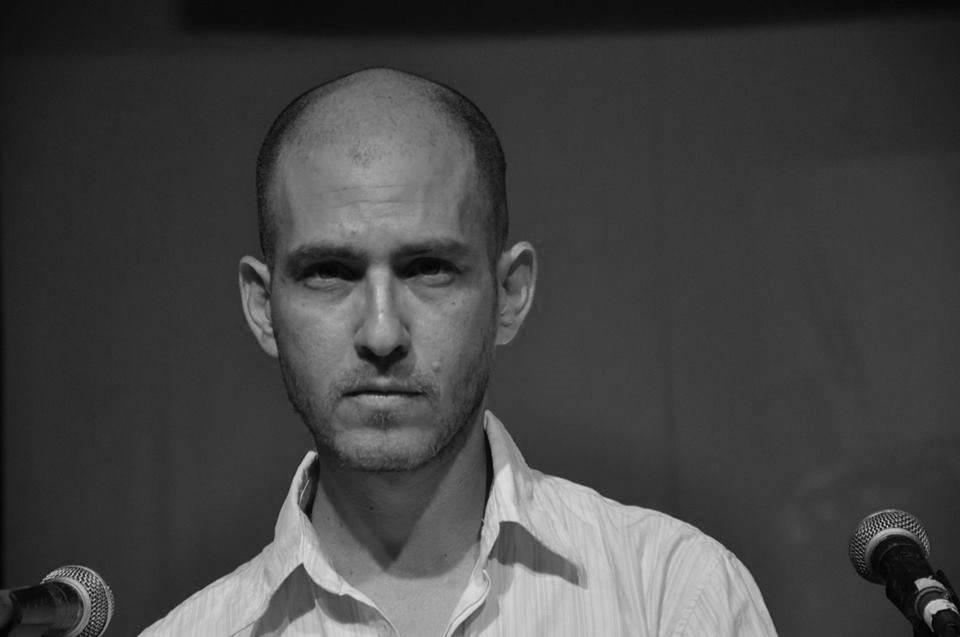 Playwright, director, actor, teacher and artistic director. Founder of "Homemade" Ensemble together with Abigail Rubin. Winner of Best Show Award for "Yabalek" at 2015 Acco Fringe Festival. Winner of Best Playwright, Best Performer and Best show Awards for "Shall We Dance" Father to Avshalom and Achinoam.
להמשך >>
Creator's website
Current Shows
Yabalek
A trilogy about fear. Best Show 2015 Acco Fringe Festival.
Performers: Gary Babadjanov, Iris Bolokan, Ran Ben Dror, Yoav Bartel, Lia Hazin, Ruth Tuby, Naam Yaacobovich, Adi Paz.
Created by Abigail Rubin and Yoav Bartel.
Set and Costume Design: Maor Tzabar.
Lighting Design: Uri Rubinstein.
Music: Ophir Iletzky.
Video Art: Vera Coreman and Bettina Feinstein.
Assistant Director: Vye Schlimovich.
Operator: Eden Asher.
Production: Anat Dotan-Azen and Lital Nimrod – Holon Acting Studio in collaboration with "Homemade" Ensemble.
A rattling journey that starts out with physical theater, continues with a dance accompanied by a chorus and ends with an intimate encounter with Gabriel – a constellation method therapist. Yabalek won the Best Show, Best Set Design and Best Costume Design Awards at the 2015 Acco Fringe Festival.
Shall We Dance
Solo preformance
Written, directed and performed by Yoav Bartel.
Directed and chorographed by: Abigail Rubin.
Lighting Design: Nadav Barnea.
Musical advisor: Yechezkel Raz.
Eitan Harari, a folk dancing instructor who aspires for recognition, takes advantage of a dancing event he was asked to replace in, to create an innovative folk dance with the audience and by doing so, improve his stature in the Israeli dance world. Throughout the dancing event Eitan reveals his sources of inspiration – his experiences as a youth. As the dancing continues, Eitan starts smelling the scent of success but just then his memories threaten to seize him and shadow the dance festivities.
Drop Dead
An original production by Avigail Rubin and Yoav Bartel
From the Reviews:
"This is the kind of art that looks at its subject matter with a piercing eye and deciphers its lights and sounds, its angles and circles. It digs down and brings up to the surface the sensation that behind it all hides a warm humaneness, that is either painful or content, and the creators transformed this humaneness into a riveting piece." (Tzvi Goren, Habama Website)
Performers: Yoav Bartel, Doron Lederer, Shimon Mimran, Tamir Mamis, Shachar Netz, Omer Uziel, Adi Paz.
Set and Costume Design – Maor Tzabar
Assistant Designer – Svetlana Livshitz
Music – Idan Shimony
Lighting Design – Omer Sheizaf
From Avner Sitin's book:
"Hatred provides an internal, available fire, of varying intensities, the mere lighting of which in the actor, synchronized with the character's state of being, will ignite a performance that will annihilate itself and its audience in a one-time, unrepeatable instance."
Meir Ben-Ami, the Acting Studio Manager, was twice wrong.
First, when he axed the production by creator Avner Sitin, who bases his work on the hatred between himself and his actors and that of the actors between themselves.
Second, when he decided to hold a preliminary "Inside the Actors Studio" type interview with the ambitious creator, prior to watching the cancelled version of the show.
Before long the manager finds himself to be a pawn at the hands of Avner, who is determined to expose, embarrass and stick his claws on his way to get to the bottom of truth.
Seven actors and dancers bask in the hatred towards the other, towards their community and especially towards themselves.