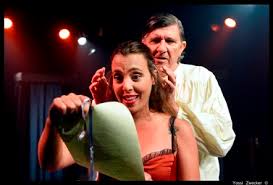 Haim Abud- Scapino | The Love of Don Perlimplín and Belisa in the Garden
One of the 20
th
century's greatest classics, written by Spanish playwright Federico Garcia Lorca, brings the story of Don Perlimplín – a gentle, aging educated bachelor who secludes with his books away from the world. Under the pressure of his maid and social customs, Don Perlimplín is pushed to marry a bride who is his complete opposite – young, temperamental and lustful.
In Scapino's interpretation of this classic, the comedy becomes a tragedy under the manipulative direction of the show's two mask-wearing elves, juggling two different perceptions: one that is physical, materialistic that deals with lust and satisfying desire and the other is idealistic, moral, eternal. All this is to the pleasure of the audience and, of course, to meet the required ratings. So who will the next gladiators be?
---
Written by: Federico Garcia Lorca
Translated by: Rina Litvin
Directed by: Haim Abud
Created and performed by: Orit Peres, Barak Gonen, Ella Gofer-Abud, Haim Abud
Adaptation and Dramaturgy: Barak Gonen and Shachar Golan
Costume design: Merav Netanel Danon
Set design: Roi Vaturi
Lighting design: Adi Shimroni
Mask design: Ella Gofer-Abud
Music: Dan Hupert
Performed by: Barak Gonen, Ella Gofer-Abud, Dror Tapelitzky, Orit Peres
Produced by and Premiered at Hasimta Theater, 2015.
Duration: 55 minutes.