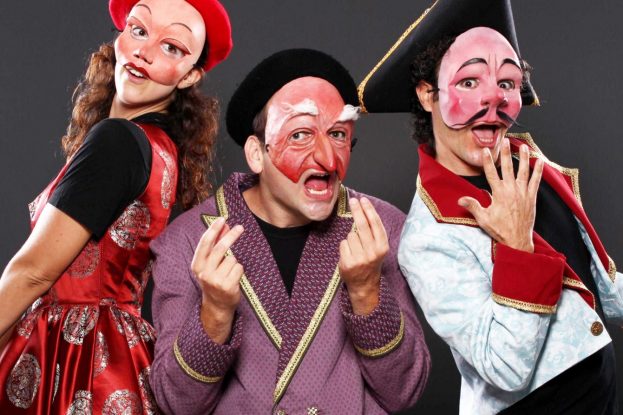 An original play inspired by Molière's "The Miser".
"There's a problem! The show isn't working, we have to make some changes!" So declares the producer-director at the premiere of Molière's "The Miser".
A refreshing innovative adaptation of Molière's famous play, examining the role of theater in today's mainstream culture and theater's own approach to its tradition and audience. All this while emphasizing the dialogue between Molière and the genre of Commedia Dell'arte as well as between the play's classical style and language – and modern language.
---
"The Miser, Where to?" tries to make us think and ponder about theater's role and path in our modern times… It's a delicious treat for hot summer days. (Tzvi Goren, Habama website)
Written by: Barak Gonen
Directed by: Haim Abud
Performed by: Barak Gonen, Ella Gofer, Haim Abud
Masks: Yehudit Greenspan
Costume design: Merav Netanel
Musical editing: Nadav Wetzler
Artistic Consultant: Yoram Boker
Duration: 75 minutes.
Winner of Israel's 2012 Fringe awards for Best Supporting Actress. The show was selected by EMI (Israel's union of performing artists) to represent Israel in Moldova's International Chamber Fringe Festival, MOLDFEST, in 2013.
The show was supported by the Rabinowitz Fund and the Lottery Institute. It is approved by Culture for Israel.